www.tourbillon.com/modules/custom/front/tb_layout/assets/images/logo-tourbillon.svg
https://www.tourbillon.com/en/boutiques/lugano
www.tourbillon.com/sites/default/files/styles/tourbillon_store_detail/public/stores/bg-lugano.jpg?itok=wsNmxgG5
$$$
Lugano Tourbillon Boutique
https://goo.gl/maps/LNEF7Y6N8GYDqTri7
Lugano Tourbillon Boutique
www.tourbillon.com/sites/default/files/styles/tourbillon_store_detail/public/stores/bg-lugano.jpg?itok=wsNmxgG5
www.tourbillon.com/sites/default/files/styles/tourbillon_store_detail/public/stores/bg-lugano.jpg?itok=wsNmxgG5
Tourbillon Lugano
Via Nassa 3
6900 Lugano

Suisse
46.003501892089844
8.950480461120605
Manager
tourbillon.lugano@swatchgroup.com
Switzerland
Lugano
In a maze of narrow lanes and picturesque little squares,
Tourbillon Boutique sits on the corner of Vicolo del Lido and Via Nassa.
ADDRESS
Tourbillon Lugano
Via Nassa 3
6900 Lugano

OPENING HOURS
Monday-Friday
09:30 - 18:30
CONTACT
tourbillon.lugano@swatchgroup.com
Tourbillon Lugano
ABOUT
Like the city, this absolutely charming pedestrian district marvelously blends the precision of Switzerland with the imagination of Italy, offering a perfect balance between tradition and modernity. The boutique's contemporary setting contrasts harmoniously with the marvels of fine watchmaking that may be found within. This is a must-see for anyone who loves beautiful watches.
Tourbillon Boutique offers the very latest timepieces from Breguet, Harry Winston, Blancpain, Glashütte Original, Jaquet Droz, OMEGA and Swatch.
TOURBILLON BOUTIQUE
Exclusive services
All our exclusive services for you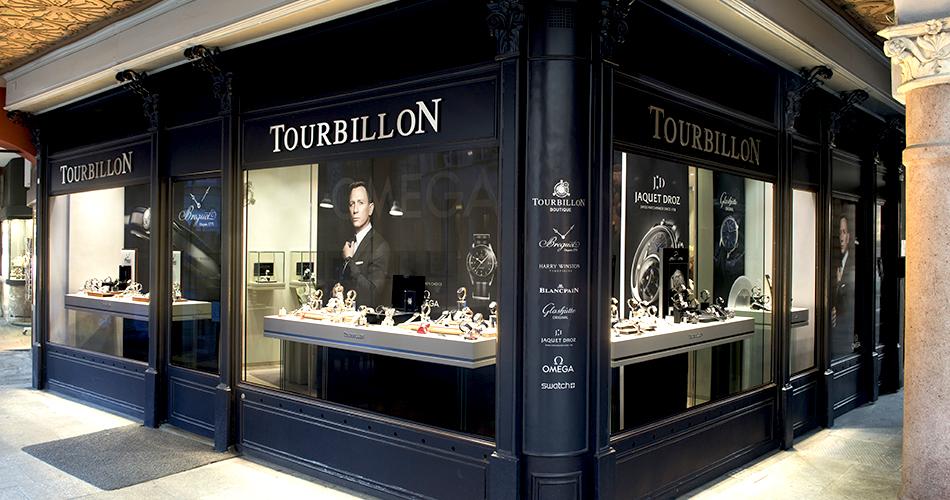 MEET US TODAY IN
Tourbillon Boutique
Discover all our boutiques